The mere fact Hussein funded homicide bombers should have been enough "evidence" for sane, civil humans to realize he was a threat that couldn't be ignored.
Add to that the fact that until his demise, Abu Nidal lived a comfortable life in Iraq. Abu Abbas was captured by U.S. Special Forces in Iraq in 2003. Looks like Iraq was the place to be for terrorists... or maybe it's because his first name is Abu.
I'm sure some people prefer to think Iraq must have been some type of Club Med rather than seeing it for what it was.
There are some who will see all the "proof" in the world and will still believe we had "no business invading Iraq". I really don't give a hoot what those types of people believe.
__________________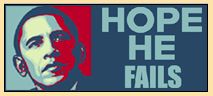 *
*Stolen from AnthonyR on 5/21/09
"Socialism is a philosophy of failure, the creed of ignorance and the gospel of envy." Winston Churchill
"The problem with socialism is that eventually you run out of other people's money," Margaret Thatcher