If this doesn't say it all!!
REMEMBERING REAGAN
In Solidarity
The Polish people, hungry for justice, preferred "cowboys" over Communists.
BY LECH WALESA
Friday, June 11, 2004 12:01 a.m. EDT
GDANSK, Poland--When talking about Ronald Reagan, I have to be personal. We in Poland took him so personally. Why? Because we owe him our liberty. This can't be said often enough by people who lived under oppression for half a century, until communism fell in 1989.
Poles fought for their freedom for so many years that they hold in special esteem those who backed them in their struggle. Support was the test of friendship. President Reagan was such a friend. His policy of aiding democratic movements in Central and Eastern Europe in the dark days of the Cold War meant a lot to us. We knew he believed in a few simple principles such as human rights, democracy and civil society. He was someone who was convinced that the citizen is not for the state, but vice-versa, and that freedom is an innate right.
Full Editorial Here
__________________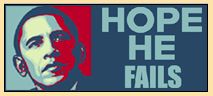 *
*Stolen from AnthonyR on 5/21/09
"Socialism is a philosophy of failure, the creed of ignorance and the gospel of envy." Winston Churchill
"The problem with socialism is that eventually you run out of other people's money," Margaret Thatcher