Welcome to the RonaldReagan.com Forums.

You are currently viewing our boards as a guest which gives you limited access to view most discussions and access our other features. By joining our free community you will have access to post topics, communicate privately with other members (PM), respond to polls, upload content and access many other special features. Registration is fast, simple and absolutely free so please, join our community today!

If you have any problems with the registration process or your account login, please contact contact us.
| | |
| --- | --- |
| It's About Time! | |
Dubya's Domain (Current Events & News Forum)
A Current Events Forum Dedicated To Our 43rd President - George W. Bush.
04-11-2007, 04:54 PM
| | | | |
| --- | --- | --- | --- |
| | Super Moderator | | |
It's About Time!
---
North Carolina Attorney General to Announce Results of Duke 'Rape' Case Today
Quote:
North Carolina Attorney General Roy Cooper will hold a news conference Wednesday to announce whether the sexual assault and kidnapping charges against three former Duke University lacrosse players will be dropped.
A press conference in Durham is scheduled for 2:30 p.m. EDT. Defense attorneys have scheduled a 4 p.m. EDT press conference.
ABCNews.com and The Associated Press reported that all charges against Reade Seligmann, David Evans and Collin Finnerty will be dropped.
Prosecutors did not say what Cooper's announcement would be, but Joseph Cheshire, an attorney for one of the indicted players, said, "I am very comfortable that the charges will be dismissed and these boys will be completely exonerated."
Seligmann, Evans and Finnerty were all in Raleigh on Wednesday and planned to watch the televised news conference from an undisclosed location.
The three face charges of first-degree kidnapping and first-degree forcible sexual offense after one of two dancers hired to perform for the players claimed she had been violently raped in a bathroom by three white players at the party.
Cooper's office took over the case Jan. 13 from Durham District Attorney Mike Nifong, who indicted the players last spring after an exotic dancer claimed she was raped repeatedly at an off-campus lacrosse party on March 13, 2006.
But after changes in the accuser's story and no DNA evidence conclusively pointing the finger at the three players, the rape charges were dropped in December.
Members of the accuser's family told FOX News that the woman is "almost relieved" that the case appears to almost be over. Family members had earlier told FOX News that she has wanted the case to be over for some time, especially since she expected charges to be lessened — if not dropped completely — since Nifong removed himself from the case.
The family told FOX News that they're poor and black, whereas the players and their families are "rich and white," and that the attorney general's office has looked upon the players as "golden boys."
The allegations at first outraged the Raleigh/Durham community — the woman is black and attended nearby North Carolina Central University; all three Duke players are white. But that anger largely shifted to Nifong as his evidence against the three fell apart and questions surfaced about the credibility accuser.
"Fresh eyes would have ended this case before it began," said Larry Pozner, a defense attorney for 33 years and former president of the National Association of Criminal Defense Lawyers. "This is a travesty. This is a tragedy for the woman and the team and the individual defendants."
"I think it's likely that they will do that," said Wade Smith, an attorney for Collin Finnerty, referring to reports charges will be dropped. "We certainly hope that would be true. But until we hear it, we're not going to acknowledge that's the truth. We'll wait and see."
"The attorney general will probably announce a dismissal of all the remaining charges," Woody Van, a former attorney for the accuser, told FOX News on Wednesday. "You don't bring in all the defendants and have their counsels come in … and tell them the case is going to proceed. ... I'm reasonably certain the case is going to resolve itself in favor of the defendants today or tomorrow."
All three former players have steadfastly maintained their innocence, with Evans calling the allegations "fantastic lies."
"I think today's exciting for a lot of reasons," Taylor Price, a friend of Finnerty and Seligmann's, told FOX News. Not only may the charges be dropped, he said, but "this boundary that's been suffocating my friends for the last two years is finally going to be lifted. I'm excited to see where these kids are going to go the rest of their lives … I know they're going to do great things."
The families of Finnerty, Evans and Seligmann may be considering a civil lawsuit against either the city or the state, if the charges are dropped completely, sources close to the case told FOX News.
Nifong dropped the rape charges in December. He recused himself a few weeks later after the state bar charged him with violating several rules of professional conduct.
Among the ethics charges, Nifong is accused of withholding potentially exculpatory DNA evidence from the defense and lying to both the court and bar investigators. Nifong faces a June trial before the bar and could be disbarred if convicted.
Click here to read the latest Nifong ethics charges news
Nifong's recusal put the players' fate in the hands of Cooper, who promised "a fresh and thorough review of the facts" when he took over the case in January.
"Since he recused himself in January and turned the case over to the attorney general's office, he has had no involvement in the investigation," said David Freedman, Nifong's lawyer. "At the time he turned the case over — and now — he has had complete confidence in the attorney general's office to make the appropriate decision."
A Trail of Fumbles
The lack of DNA evidence — along with Nifong's decision to apparently keep those details from the defense and lie in court about doing so — would eventually come to symbolize the legions of problems with the case.
No DNA evidence ever proved any member of the lacrosse team raped the accuser. The defense also learned that a series of tests Nifong ordered from a private lab found genetic material from several men on the accuser's underwear and body, but none from any Duke lacrosse player.
The second dancer at the party, Kim Roberts, called the allegations "a crock" but had said she thought something did happen in the bathroom that night.
"I think she was looking forward to the trial so she could see for herself what happened," Roberts' lawyer, Mark Simeon, told FOX News on Thursday. "Something was wrong. Something happened in that house and she was looking forward to finding out, along with everyone else."
Seligmann produced ATM and fast-food receipts, cell phone records and other evidence that suggested he was not at the party when the rape supposedly took place.
Defense attorneys attacked a key photo lineup — suggested by Nifong — that they said violated police procedures because it used only pictures of lacrosse players, even though investigators knew other men attended the party.
They harped on the accuser's credibility, likely damaged in the eyes of a potential jury by her inconsistent story, a decade-old claim she was gang-raped that never led to an arrest, and a December revelation that she was pregnant.
The Rev. Jesse Jackson, whose Chicago-based Rainbow/Push Coalition had offered to help the accuser pay for college but was never able to make contact with her.
"That remains somewhat of a mystery," Jackson said. "We don't know where she is."
He added: "We just hope this traumatic experience for all involved ends with the minimum amount of damage."
Horse's rear end Mike Nifong: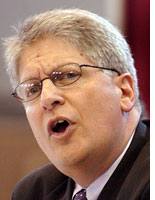 Read the rest here:
http://www.foxnews.com/story/0,2933,265187,00.html
Breaking news on foxnews.com right now, apparently all charges were, in fact, dropped. It's about time...this travesty has gone on way too long as it is. I hope the families of the boys do bring a civil lawsuit agains the city for what they've been put through this past year. What a joke. And as for the accuser...I don't feel sorry for her, I just hope she never has to know what it's like to REALLY be a victim of rape....this crap she pulled is a slap in the face of all real rape victims.
__________________
"All that is necessary for the triumph of evil is that good men do nothing."-Edmund Burke

"Hey, wasn't DifferentDrummer the one who looked like Sideshow Bob? Or am I thinking of a different idiot?"
Currently Active Users Viewing This Thread: 1

(0 members and 1 guests)
| | |
| --- | --- |
| Posting Rules | |
All times are GMT -3. The time now is
10:46 PM
.
Powered by vBulletin
Copyright ©2000 - 2013, Jelsoft Enterprises Ltd.
RonaldReagan.com
is the property of Techsure LLC ©1996-2008