'GRANNY BASHER'
ROBBERY SUSPECT ARRESTED
By MURRAY WEISS, ERIKA MARTINEZ and CLEMENTE LISI
UPDATE: A suspect in the mugging last month of a 101-year-old woman with a walker was arrested on Friday on drug charges, said Police Commissioner Raymond Kelly.
Kelly said Jack Rhodes, 44, had been wanted for questioning in the vicious attack - captured on a surveillance tape that outraged New Yorkers - and another robbery of an 85-year-old woman. Rhodes is suspected of punching and robbing a woman on Dec. 30, 2006, at 7:30 a.m. in Jamaica - a robbery eerily similar to the ones committed on March 4 in Queens on two senior citizens.
In the December attack, Rhodes allegedly approached a woman near the entrance to her basement apartment in Jamaica, punched her in the face and grabbed her handbag, police said.
Rhodes - who also uses the aliases "Jack Roads" and "James Gray" - fled on foot, authorities said.
NYPD officials said they would also like to question Rhodes about the assault and robbery on the two elderly women - one of which was caught on surveillance video - since it is so similar to the December attack.
On the video, a man is seen punching 101-year-old Rose Morat in the face as she stands in the vestibule of her Jamaica Estates apartment building.
Morat was robbed of $33 and her cheekbone was broken. "If it's the right man, it's wonderful," Morat told The Associated Press when reached Friday by phone. But she also cautioned she wouldn't be much help to investigators: "I can't identify him. My eyes aren't that good."
The other woman, Solange Elizee, 85, was attacked the same day. She suffered a sore cheek after she was punched in the face.
The state Legislature is still debating a bill, introduced after the attacks, that would make it a felony to assault anyone older than 70 - slapping the assailant with a maximum of four years in the slammer.
The state Senate has approved the bill, but it faces an uncertain future in the Democratic-controlled Assembly.
http://www.nypost.com/seven/04272007/news/regionalnews/granny_basher_regionalnews_murray_weiss__erika_mar tinez_and_clemente_lisi.htm
__________________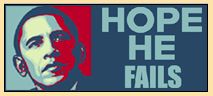 *
*Stolen from AnthonyR on 5/21/09
"Socialism is a philosophy of failure, the creed of ignorance and the gospel of envy." Winston Churchill
"The problem with socialism is that eventually you run out of other people's money," Margaret Thatcher