Florida Warns 1 Million to Flee Hurricane
Friday, August 13, 2004
TAMPA, Fla. — With a "scary, scary" Hurricane Charley (search) zeroing in on Florida's west coast Friday, state officials urged about a million tourists and residents to evacuate and avoid the path of a storm that could submerge parts of this city's downtown and other neighboring areas.
Charley's expected 120 mph top sustained winds and massive storm surge could devastate coastal and low-lying areas in Tampa (search) and St. Petersburg (search). Everything from waterfront condominium towers to vulnerable mobile homes were in danger on the Gulf Coast.
Charley's center was expected to pass west of the Florida Keys early Friday before hitting the Tampa Bay area later in the day, dumping heavy rain and possibly spawning sporadic tornadoes, Hugh Cobb, a meteorologist at the National Hurricane Center in Miami, said Thursday. About 6.5 million of Florida's 17 million residents were in Charley's projected path, the U.S. Census Bureau reported.
"It does have the potential of devastating impact. ... This is a scary, scary thing," said Gov. Jeb Bush, who had declared a state of emergency.
State meteorologist Ben Nelson said the surge could reach up to 16 feet in the Tampa area if Charley hits at 120 mph, making it a major hurricane at Category 3 strength.
Here
[img]graemlins/angel.gif[/img]
__________________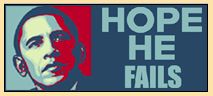 *
*Stolen from AnthonyR on 5/21/09
"Socialism is a philosophy of failure, the creed of ignorance and the gospel of envy." Winston Churchill
"The problem with socialism is that eventually you run out of other people's money," Margaret Thatcher